Sapphire Cruise 2 Days 1 Night Sleep On Boat
Cruise name: Sapphire Cruise

Destination: Hanoi - Lan Ha Bay - Sapphire Cruise - Halong Bay
Duration: 2 Days 1 Night
Price: $158.00
Sapphire Cruise 2 Days 1 Night Seep On Boat
Day 1: Hanoi - Hai Phong Highway - Sapphire Cruise - Lan Ha Bay -
Halong Bay
- Overnight on Boat
Day 2:
Sapphire Cruise
- Dark & Bright Cave -
Halong Bay
- Hanoi
Day 1: Hanoi - Hai Phong Highway - Sapphire Cruise (Lunch & Dinner)
Highlights: Hanoi - Hai Phong Highway - Sapphire Cruise - Lan Ha Bay - Halong Bay - Overnight on Boat
09:00 - 09:30: Our big Shuttle Bus with air-conditioned and English speaking guide will collect you from your hotel in Hanoi and convey you to Hai Phong Express Highway (2,5 Hours only) and arrrival at the Got Harbour at approximately 11:30am.
12:00: You will be taken aboard our support vessel and travel from the wharf via the bay to board our luxurious craft Sapphire Cruise. You will be welcomed aboard and greeted with a complimentary drink. Our friendly and professional crew will conduct a compulsory safety procedure session and then you are free to check into your cabin and freshen up. We encourage you to explore our luxuriously-appointed ship then watch the magical landscape while its cruising.

13:15: A special lunch of fresh seafood and an assortment of appetizing delicacies will be served. You will be enchanted when decadently dining on our luxury cruise, our lavish interpretation of a traditional Vietnamese boat. Life just doesn't get better than this! We then set sail for Lan Ha Bay, passing Da Chong islet where you can see an ancient lighthouse built by the French over a century ago.

15:00: The final part of the cruise takes us through the Cua Van area to Lan Ha bay (Part of Halong Bay). The 300 or so karst islands and limestone outcrops of Lan Ha are stunning with their pristine, snow-white beaches. You can Explore Ba Trai Dao beach via kayaks or immerse yourself in the crystal clear waters.

17:00: It's time to return to your lavish liner and cruise to your evening accommodation.
17:30 - 18:30: Happy hour? We offer an extensive drinks list including special offers such as two for one drinks.
19:15: You can spoil yourself with a unique Dinner in our distinctive restaurant.

20:45 - 12:00: It is now time to relax with an exotic cocktail and drink in the evening landscape. Our bar offers a wide range of wine, beer and liqueurs and is always a welcome sight for guests after a day sailing on the Bay. You can order an indulgent spa service, watch movies, go squid fishing or simply relax on our roof top deck under the cover of a brightly illuminated sky. Enjoy a romantic overnight on Sapphire Cruise.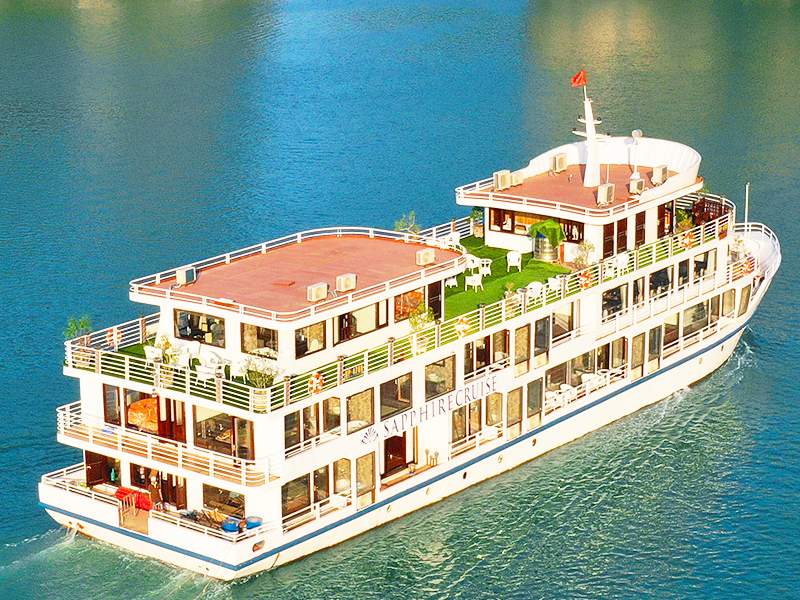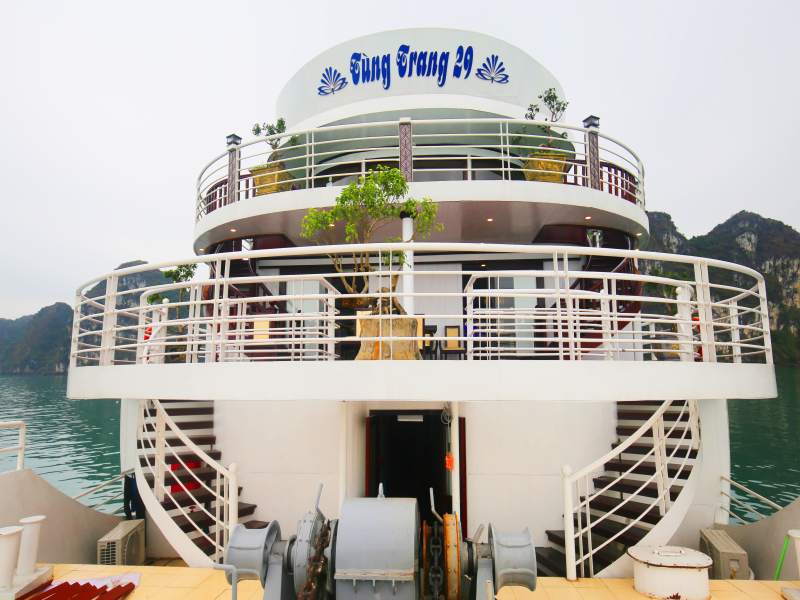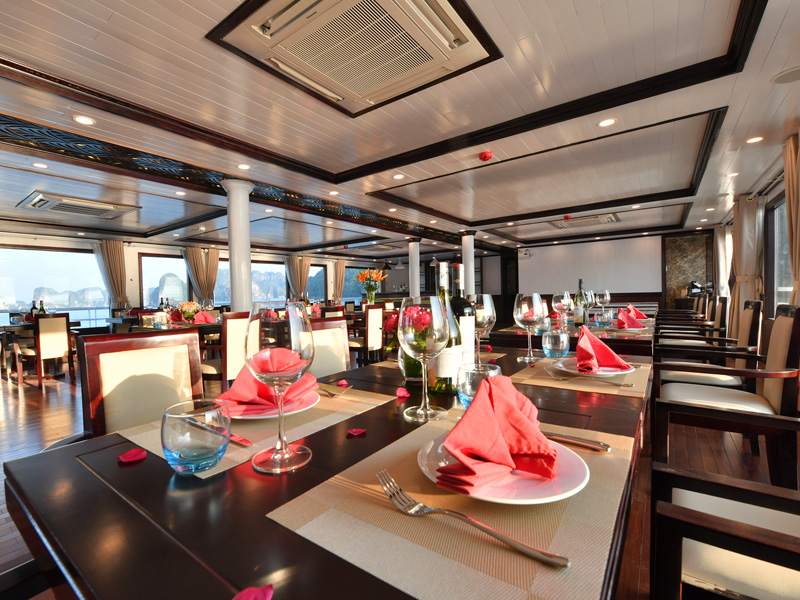 Day 2: Sapphire Cruise - Dark & Bright Cave - Halong Bay - Hanoi (Light Breakfast & Brunch)
06:30: The morning is the best time of the day on Lan Ha Bay. You might like to head to the upper deck to participate in our daily Tai Chi sessions or relax with an early morning cup of tea, coffee or juice to watch the stunning scenery unfold before you.
07:00: A light breakfast of pastries, tea and coffee will be served in our restaurant.

7:30 - 9:15: The final stage of your trip is to be taken through the mysterious caves and amongst the remote islets via local rowing boats. The breath-taking beauty of this World Heritage region will certainly impress you. Following this, you will journey back to the main ship.

09:30: It's time to check out of your cabin as we draw closer to the mainland. After a final early brunch and a last farewell from our crew at 11:30, you will board our transfer boat and head back to the wharf where you will be met by your return trip vehicle to transfer you to Hanoi.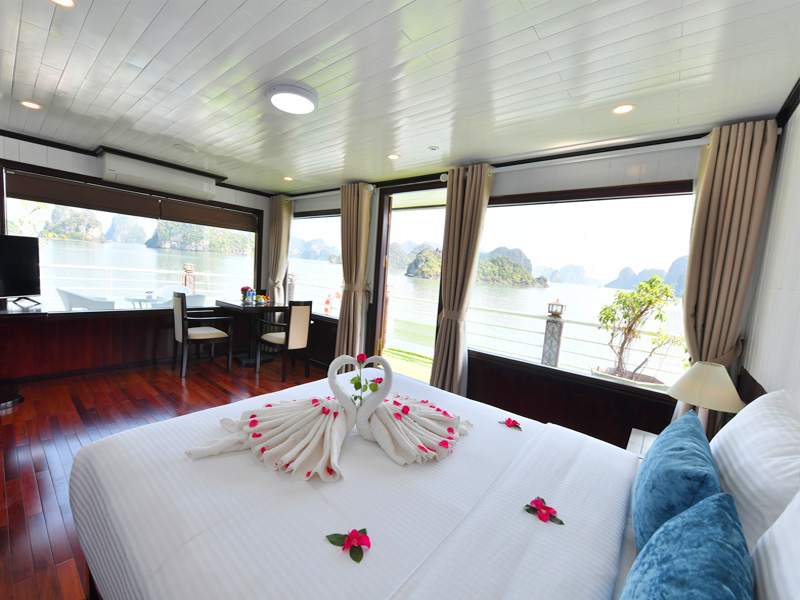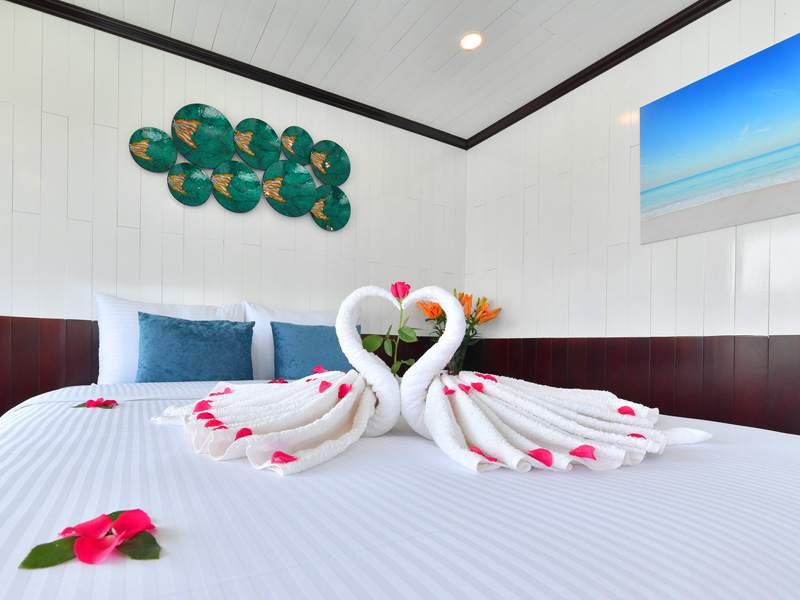 The tour prices are included as:
FREE Shuttle Bus with Air-conditioned - Transport Round Trip: Hanoi - Halong Bay - Hanoi 
FREE 1 private car for the airport pick-up service (Pick-up from Noi Bai International Airport to your Hotels in Hanoi)
Welcome drinks with warm/cold tissues.
Entrance fees and sightseeing fees
Accommodation the air-conditioned ensuite cabins as your booking request.
English-speaking guide during the tour
In house English-speaking guide
All meals served on boat as: Day 1: Lunch + Dinner & Day 2: Breakfast + Lunch.
All activities outlined above, including swimming, kayaking, cooking and night squid fishing.
The tour prices are NOT included as:
Beverages, Other personal expenses
All other services not clearly mentioned above
Children's policy
Children under 4 years old are FOC, sharing room & bed with parent.
Children from 5 to 9 years old are charged 70% of adult price, also sharing room & bed with parent.
Children from 9 years old are charged 100% of adult price, sharing room with parent, but have a private bed.
This children's Policy is only the policy and we are happy to keep contact with you by email if you are a big group or family who has more children for a best price or for any special question or request.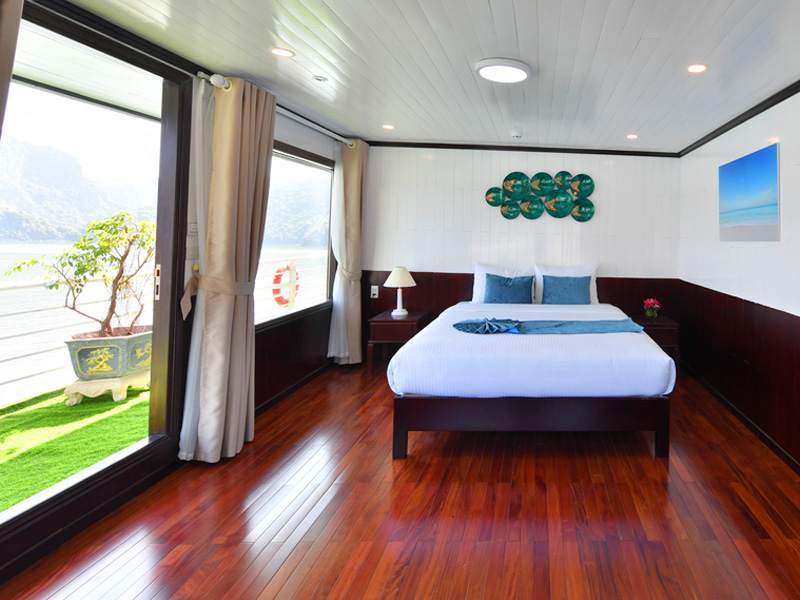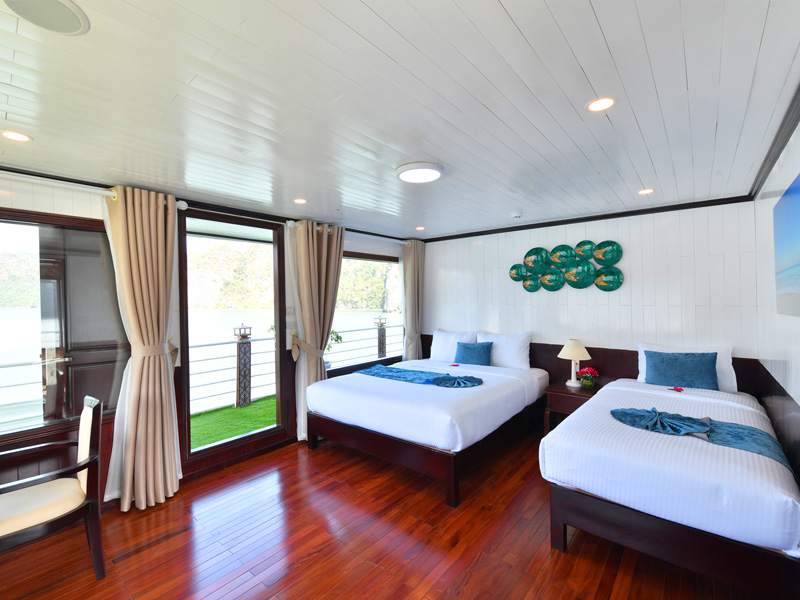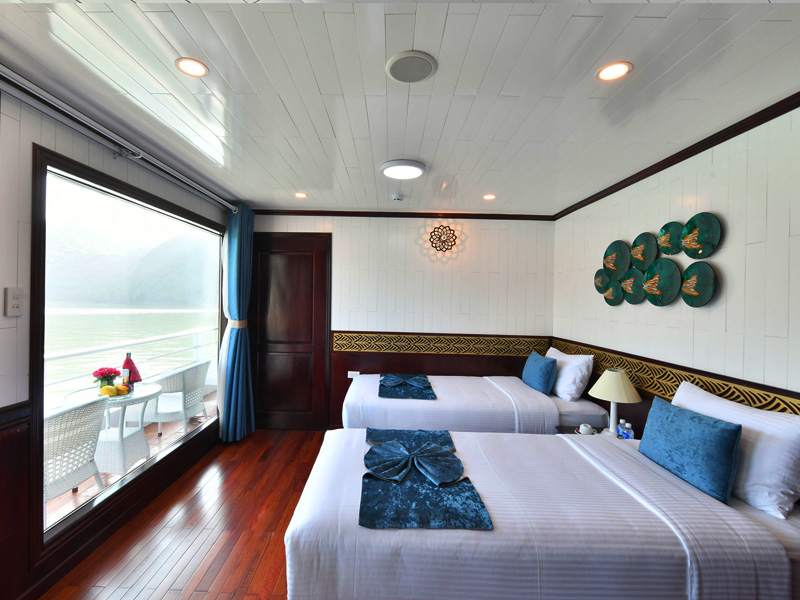 How and Why you should book with us ?
How to Book This Tour with us: You can click to book the tour with us easy and pay a deposit payment from 10% to 30% at our website. It is easy and highly recommended. They are all refundable back to your cards if there is any cancellation before 3 days of the tour departure date.
The Deposit Payment: We only get a SMALL DEPOSIT from you in advance to make sure that you are our customers before we are going to arrnage our room on boat and service in the tours for you (Not someone want to make a joke).
The Balance Payment: The Rest of Payment will be paid at our office or online by payment link which will be sent to your email directly after your request.
Why You Should Book Direct With our Company: Boking at our website, you get THE CHEAPEST PRICE guaranteed + You are also SAVING your time & SAVING your money by instant Booking Online very Easy & Secured + We take a best care of your trip and the better cabins will be normally arranged for our direct customers + FREE CANCELLATION if your plan is changed (Note: free cancellation before 3 days of the tour departure date) 
More Special Offer: If you are a big goup, families, company... who are looking for better price, special request, Honeymoon....please let us know by email: info@hanoitransportservice.com / or by phone: +84 975 562 168 Whatsapp/ Viber/ Sms...
SAPPHIRE CRUISE - TOUR OPTIONS
:
Sapphire Cruise Other Tours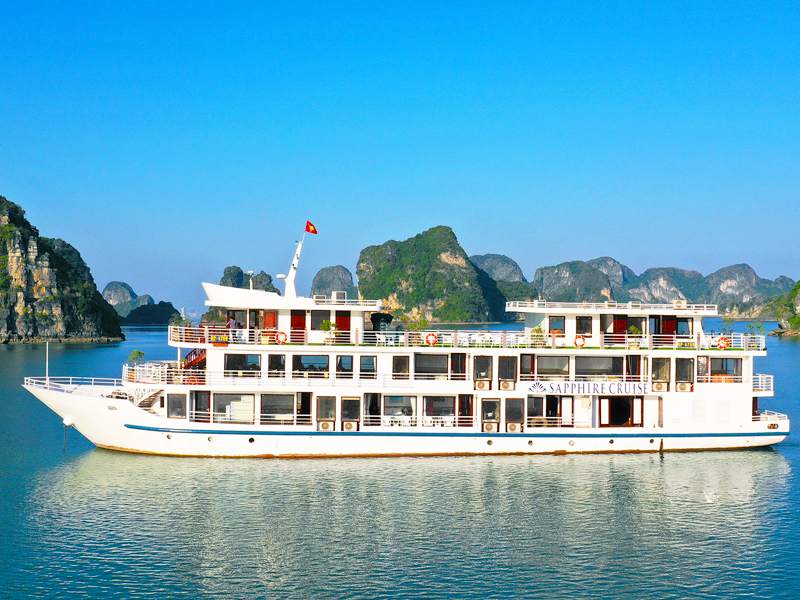 Sapphire Cruise - 3 Days 2 Nights Sleep on Boat
Day 1: Hanoi - Hai Phong Highway (2.5-Hours) - Sapphire Cruise - Lan Ha Bay Tours - Halong Bay Tours - Overnight on Boat
Day 2: Sapphire Cruise - Viet Hai Village - Lan Ha Bay Tours - Overnight on Boat
Day 3: Keep cruising on Sapphire Cruise - Dark & Bright Cave - Halong Bay Overview - Got Habour - Hai Phong Highway (2.5-Hours) - Hanoi
More Halong Bay Tours