Stellar Cruise 2 Days 1 Night Sleep On Boat
Cruise name: Stellar Cruise

Destination: Hanoi - Stellar Cruise - Halong Bay Tours - Hanoi
Duration: 2 Days 1 Night
Price: $142.00
Stellar Cruise 2 Days 1 Night Sleep On Boat
Day 1: Your hotel – Tuan Chau marina - Halong bay - Lunch– Surprising Cave – Titop Island – Sunset party – Dinner – Onboard night activities
Day 2: Tai Chi - Breakfast – Luon Cave – Cooking Demonstration – Lunch – Farewell at your hotel
Day 1: Your hotel – Tuan Chau marina - Halong bay - Lunch– Surprising Cave – Titop Island – Sunset party – Dinner – Onboard night activities
07.45 – 08.15 approx: Our guide will meet you at your hotel. The shuttle bus or private car pick up
Enjoy the peaceful scenery as we travel through the countryside, farmlands and Red River delta
Get your camera ready to take photos. Comfort break. The time from Hanoi to Halong bay is approximately 3 ½ hours.
12 – 12.30 approx: Arriving Tuan Chau marina. Welcome aboard the cruise. Refresh with our welcome drink. Meet the captain, crew in the cruise briefing.
Check into your cabin. Time to refresh and unwind
Set sail as lunch is served
Join us for a typical local lunch in the dining room or at the outdoor dining area.
Afternoon: Arrive at Surprising Cave (Hang Sửng Sốt), explore the cave and find out how the cave was named a Surprising.
Heading to Titop island area. Drop anchor in the calm water surrounded by beautiful islets. Visit Titop island for swimming and snorkeling or do the short trek to the top of island to have the overview of Halong bay from here
Heading back toward the sleeping area
Early evening: Summit on the sundeck watching the sunset, enjoy Sunset party. It's ideal time to make acquaintance with new friends, sharing your traveling experience or simply watching the sunset
An authentic Vietnamese menu is served
After dinner, reward yourself with a large selection of cocktails at our bar, or take for you one of our onboard activities: book reading, games, movies, and squid fishing…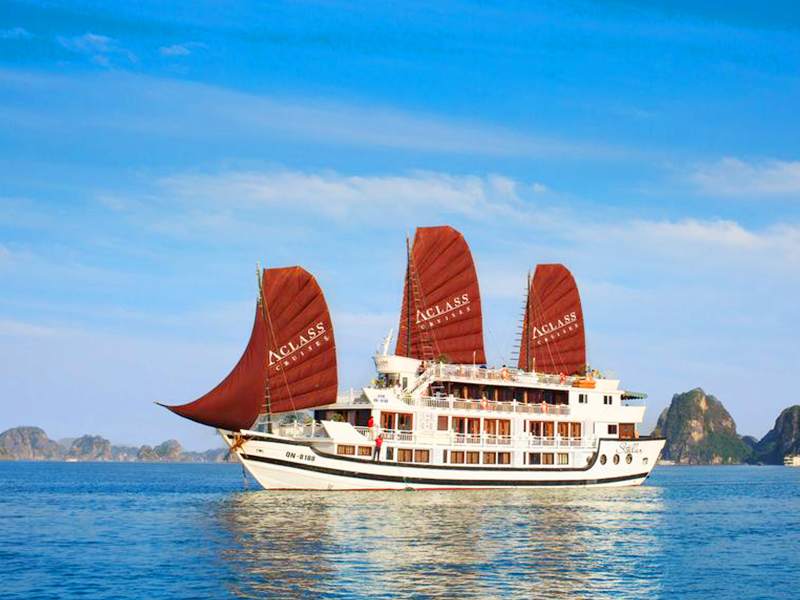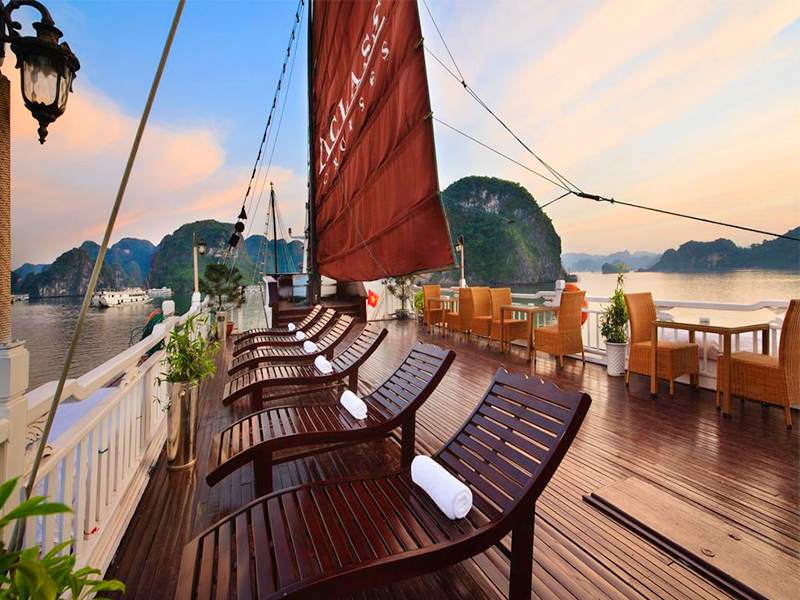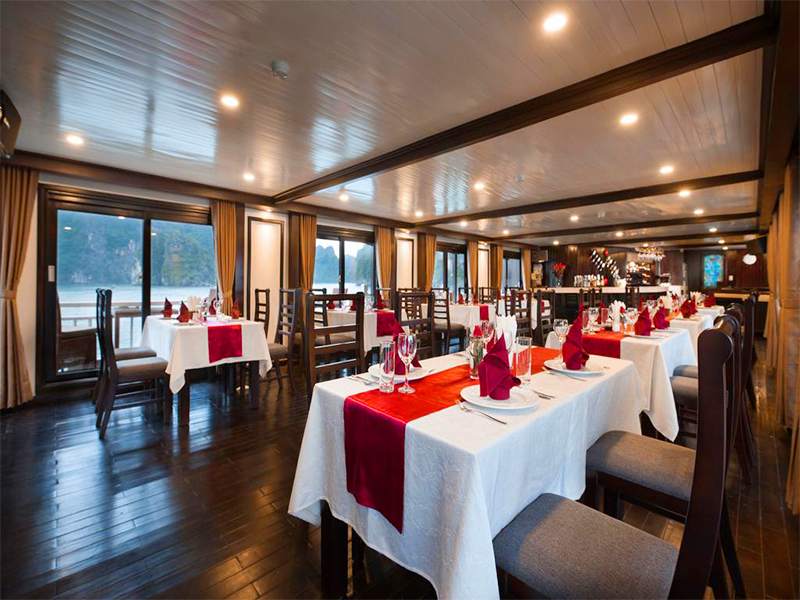 Day 2: Tai Chi - Breakfast – Luon Cave – Cooking Demonstration – Lunch – Farewell at your hotel
06:30: For the early risers join us for a Tai Chi session on the sundeck. Tai chi helps focus the mind and condition the body, joining Tai Chi session to full charge your energy for the day.
07:00 – 08:00: Local breakfast is served
08:00: Mingling yourself in the stunning views of the Bay and it's dramatic limestone islets as we sail through the calm emerald waters heading to Luon Cave (Hang Luồn)
Take your option either exploring the cave yourself on kayak or comfortably on bamboo boat rowed by the locals.
09:00: Check out the cabins, at your leisure while our cruise taking you pass by other beautiful highlights in the bay.
10:00: You will join with our short class of Cooking demonstration, how to make spring rolls before an early lunch is served.
12:00: Return to the shore and disembark from the cruise as our crew say farewell.
Transfer to minibus or private and return to Hanoi.
Arrival back at your hotel approximately 16:30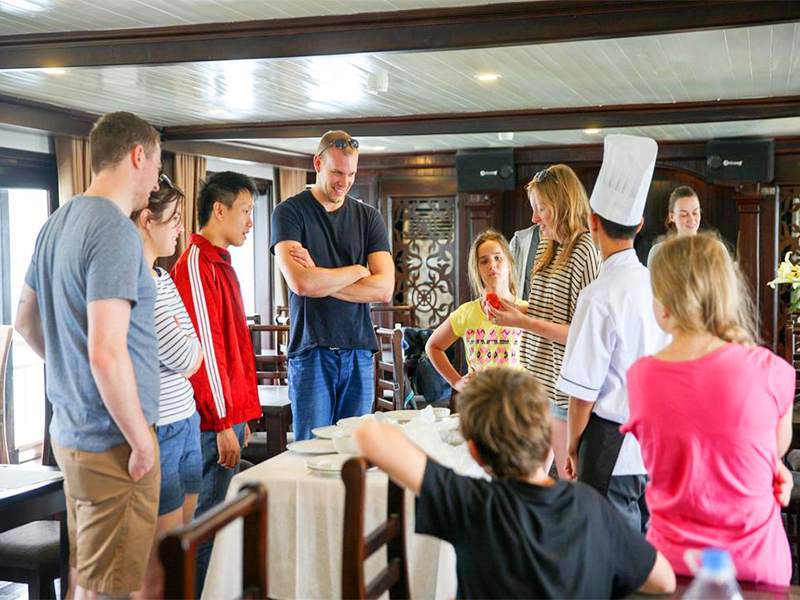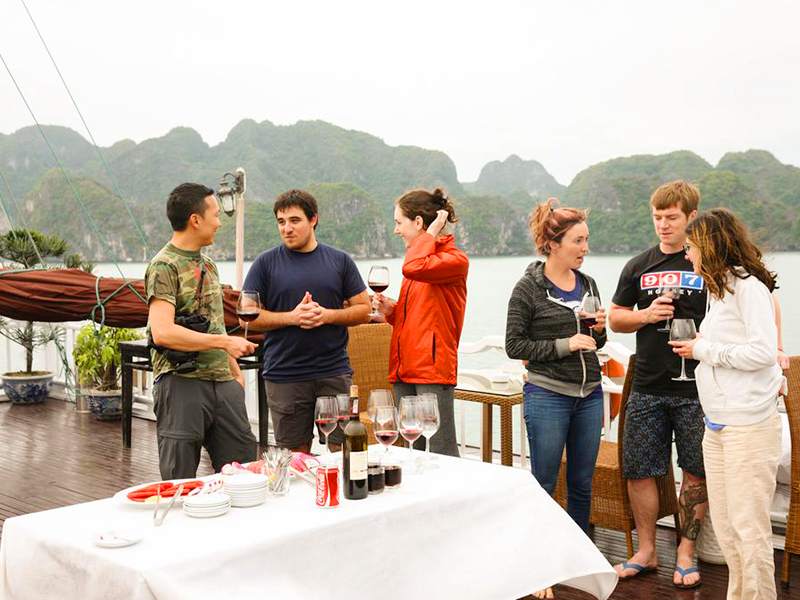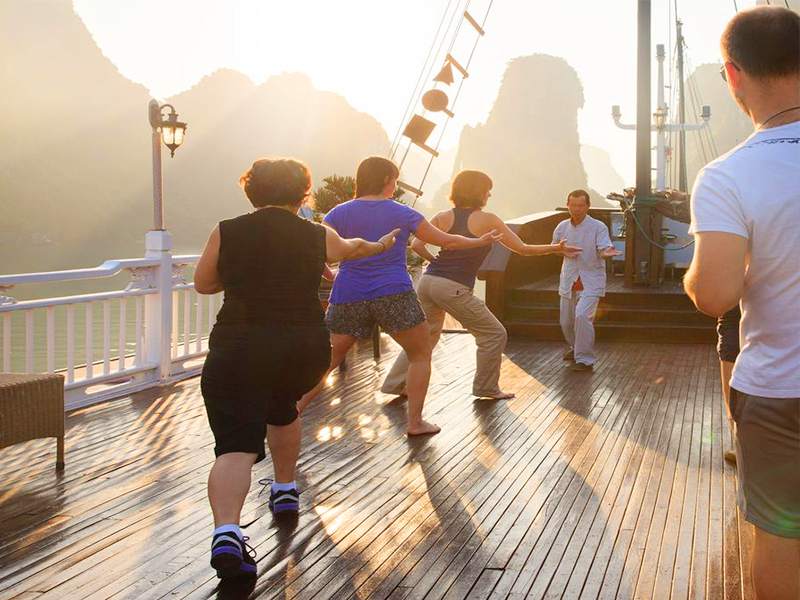 The tour prices are included as:
FREE Shuttle Bus with Air-conditioned - Transport Round Trip: Hanoi - Halong Bay - Hanoi
FREE 1 private car for the airport pick-up service (Pick-up from Noi Bai International Airport to your Hotels in Hanoi)
Welcome drinks with warm/cold tissues.
Entrance fees and sightseeing fees
Accommodation the air-conditioned ensuite cabins as your booking request.
English-speaking guide during the tour
In house English-speaking guide
All meals served on boat as: Day 1: Lunch + Dinner & Day 2: Breakfast + Lunch.
All activities outlined above, including swimming, kayaking, cooking and night squid fishing.
On board insurance and service charges
The tour prices are NOT included as:
Beverages, Other personal expenses
All other services not clearly mentioned above
Children's policy
Children under 4 years old are FOC, sharing room & bed with parent.
Children from 5 to 9 years old are charged 70% of adult price, also sharing room & bed with parent.
Children from 9 years old are charged 100% of adult price, sharing room with parent, but have a private bed.
This children's Policy is only the policy and we are happy to keep contact with you by email if you are a big group or family who has more children for a best price or for any special question or request.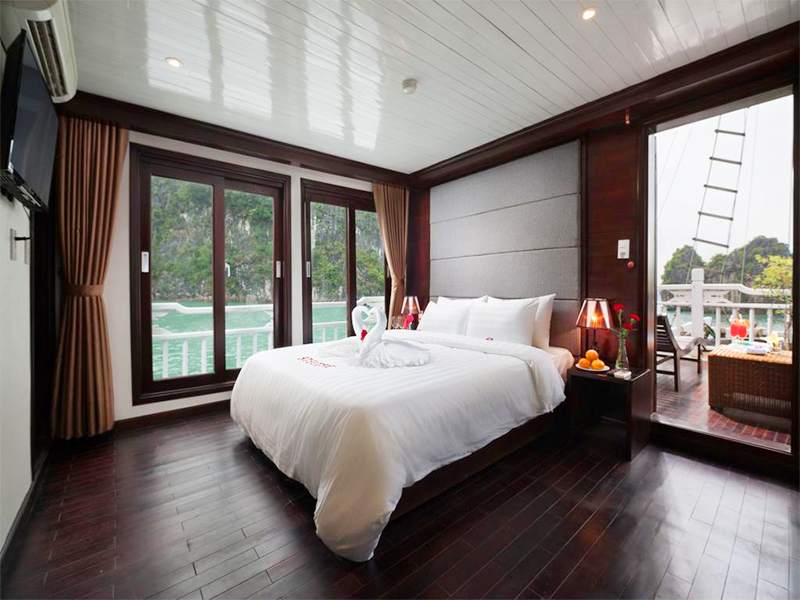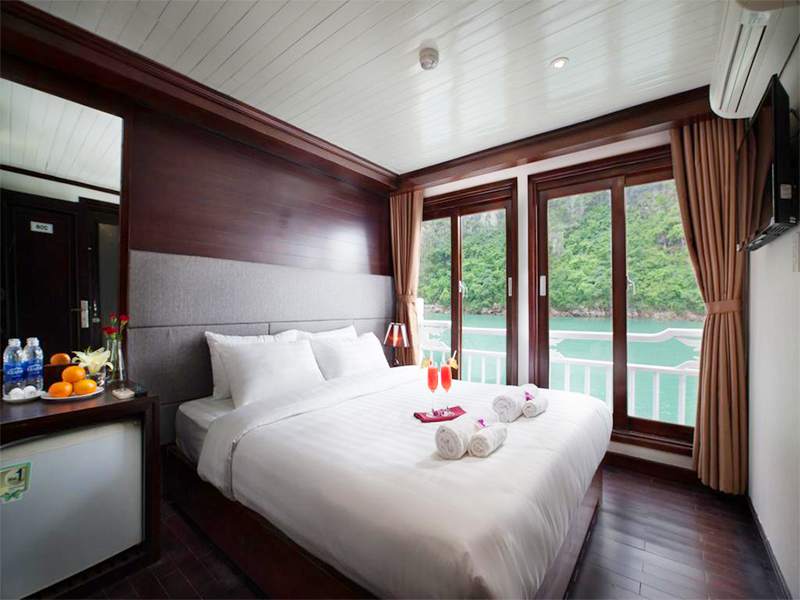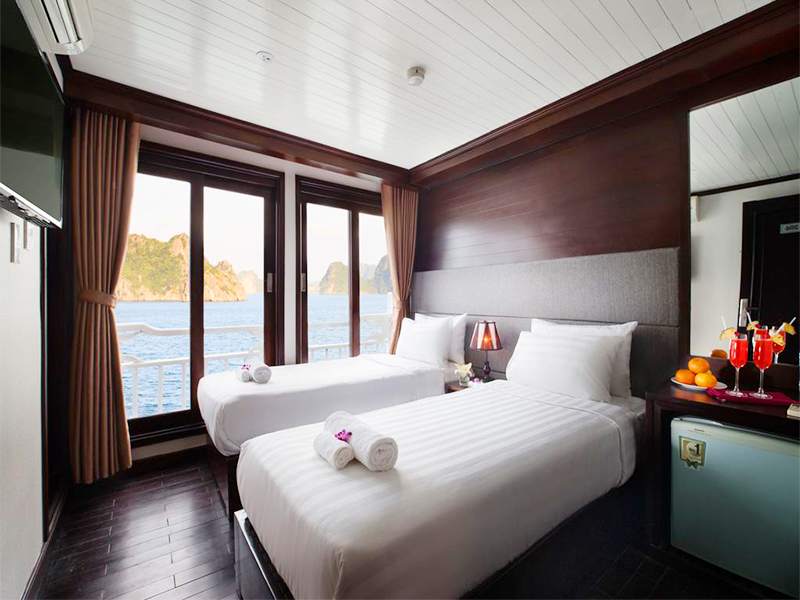 How and Why you should book with us ?
How to Book This Tour with us: You can click to book the tour with us easy and pay a deposit payment from 10% to 30% at our website. It is easy and highly recommended. They are all refundable back to your cards if there is any cancellation before 3 days of the tour departure date.
The Deposit Payment: We only get a SMALL DEPOSIT from you in advance to make sure that you are our customers before we are going to arrnage our room on boat and service in the tours for you (Not someone want to make a joke).
The Balance Payment: The Rest of Payment will be paid at our office or online by payment link which will be sent to your email directly after your request.
Why You Should Book Direct With our Company: Boking at our website, you get THE CHEAPEST PRICE guaranteed + You are also SAVING your time & SAVING your money by instant Booking Online very Easy & Secured + We take a best care of your trip and the better cabins will be normally arranged for our direct customers + FREE CANCELLATION if your plan is changed (Note: free cancellation before 3 days of the tour departure date)
More Special Offer: If you are a big goup, families, company... who are looking for better price, special request, Honeymoon....please let us know by email: info@hanoitransportservice.com / or by phone: +84 975 562 168 Whatsapp/ Viber/ Sms...
STELLAR CRUISE - TOUR OPTIONS
:
Stellar Cruise Other Tours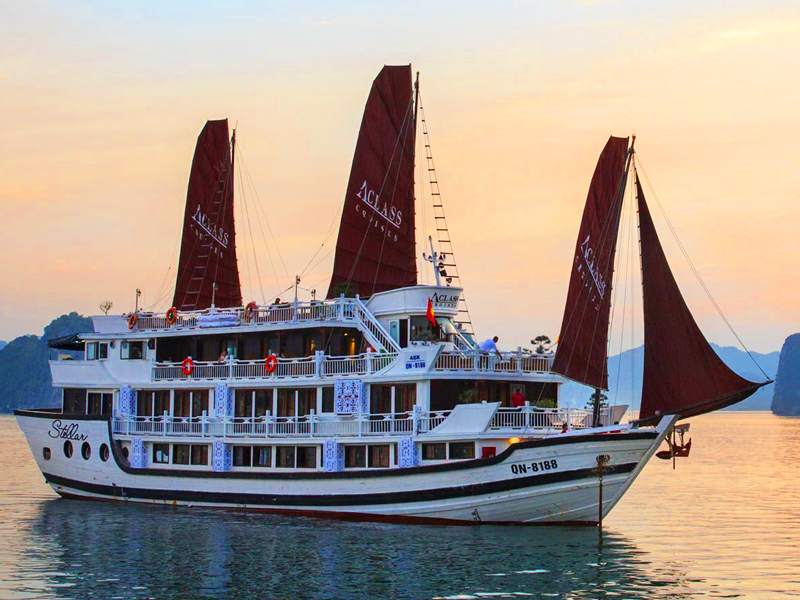 Stellar Cruise 3 Days 2 Nights Sleep On Boat
Day 1: Your hotel – Tuan Chau marina - Halong bay - Lunch– Surprising Cave – Titop Island – Sunset party – Dinner – Onboard night activities
Day 2: Tai chi – Breakfast – Maze Cave – Cua Van Floating Village – Lunch Pearl Farm – Dinner – Free time for activities
Day 3: Tai Chi - Breakfast – Luon Cave – Cooking Demonstration – Lunch – Farewell at your hotel
More Halong Bay Tours